When you get the chance for a last minute trip to Croatia, you say YES.
Thanks to Slingshot.flights for putting their faith in me and sending me off on this incredible trip. Think of Slingshot as your concierge for free reward travel - they help people see more places using responsible credit to open the door to the world. If you want to know more about how they work, I'll explain further at the end of the post.
DUBROVNIK
My first stop on the trip, and furthest south along the Croatian coast, Dubrovnik has recently garnered quite a bit of attention for it's heavy use as the setting of King's Landing in the HBO series, Game of Thrones.
Featuring a gorgeous, walled, old city, this town plunged me deep into Croatian culture and history right away. Winding stone streets and alleyways gave way to hidden courtyards and stunning vistas - on the second day I found a hole in the city wall, walked through and found myself at a hidden bar, perched among the rocks and crashing waves.
On the second evening in town I went up the hillside above the town to the old napoleonic fort to take in sunset. Although the tram wasn't running due to high winds, I made friends with a British couple and shared a taxi to the top. I opted to hike down in the dark since it was almost a full moon and why the hell not?
On my last day in town I took a boat over to the island of Lokrum for the morning to walk amongst the pines and olive trees that grow all over. Then it was off to my ferry (which became my preferred form of transport) to start my island hopping.
KORCULA
This quiet little island quickly became my favorite. One of the smaller towns I went to, it's historic old town was surrounded by a beautiful promenade with plenty of oceanside dining, and stairs down to water which seemed to never quite make up it's mind about being a shade of blue, green, purple or pink.
Although it rained the next morning, I wandered through the town, and sat down on some steps under an old bridge to read my book and wait for the rain to pass. I had the perfect Croatian lunch, a plate filled with fish, olives, marinated vegetables of all kinds, capers, and of course, lot's of bread. It was a quick stopover, but left quite an impression.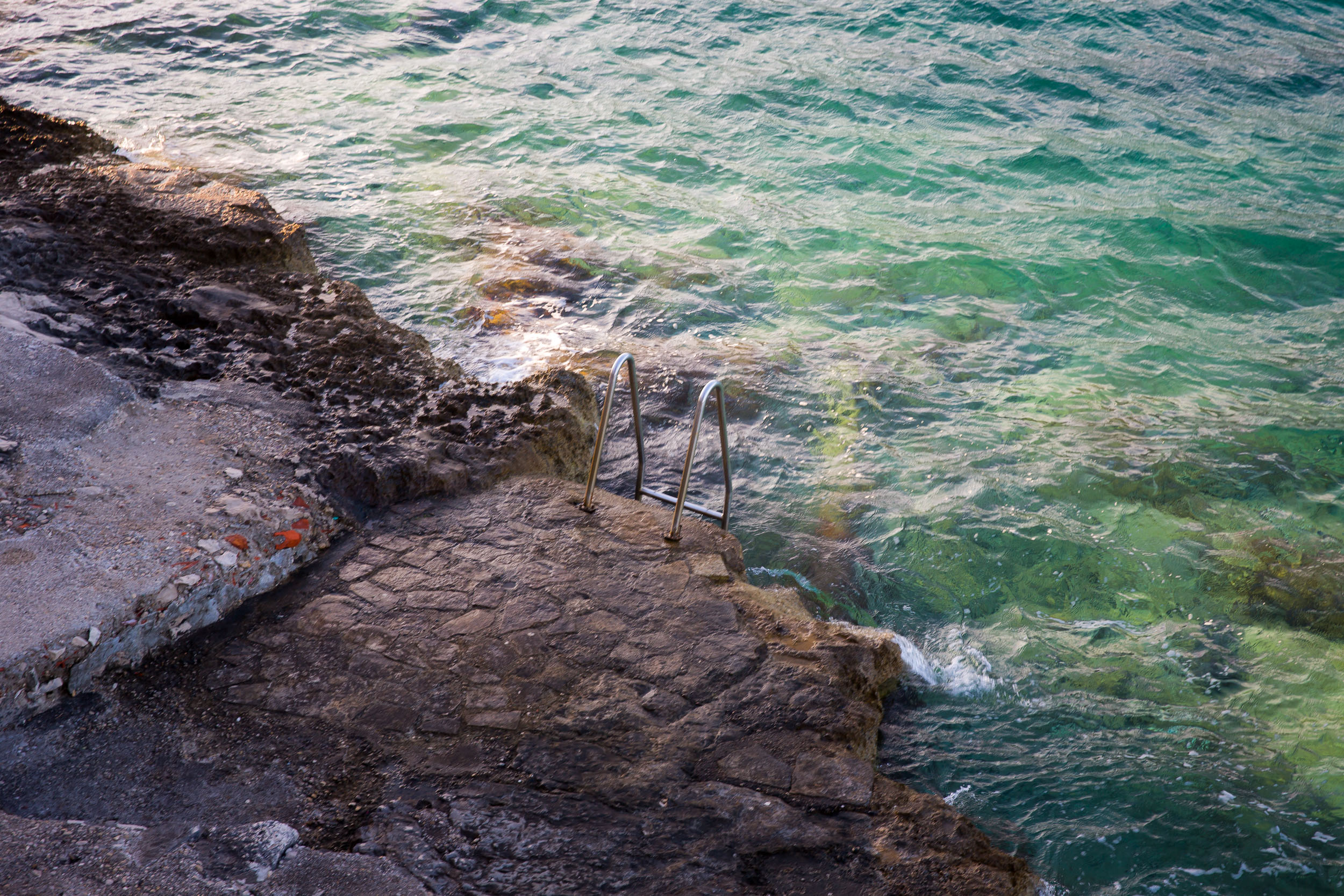 HVAR
Hvar Town is actually known as a party town, but I decided to forgo all that and take the first day out of town. I'd heard that the nearby town of Stari Grad and the adjacent Stari Grad plain are UNESCO Heritage sites, so I wanted to check them out. I opted to rent a bike and get some exercise and although the total trip wasn't a great distance (about 50km roundtrip), it was up and over a mountain pass, making for quite a bit of work. It was worth it: the views were spectacular and both sides of the road were covered in lavender fields, making the air smell incredible as my ears filled with the humming of bees. In Stari Grad, I walked my bike through olive groves, and hiked up the mountain overlooking the town to get a good view of the plains.
On my second day in Hvar Town I went for the activity most people were up to: lounging on the beach and swimming in the water. Although most of the beaches around the islands are actually pebble beaches, almost everyone is happy to rent you a beach lounger. I saw a ton of people walking around town with what I thought were yoga mats, but it turns out it's what people use to lie on at the beach.
VIS
The furthest island west, and one rich with history, Vis was the perfect last stop before my eventual journey home. On the night I got in, the Croatian national soccer team was playing a match in the Eurocup against Spain. It seemed like everyone in town, from kids to grandmas to even dogs were dressed in the iconic red and white checkered jerseys of the national team. I ended up watching the match with a bunch of locals in an outdoor pizza parlor with a giant flatscreen hastily rigged up to the pole outside. Luckily, they won and everyone was in good spirits that night.
On my last full day in Croatia I rented a scooter from my apartment's owner and drove across the island to the town of Komiza. From there, I jumped on a boat to another boat, and ventured into the famous Blue Cave. Light enters the cave by bouncing under a few holes in the rocks, illuminating everything in the perfect Adriatic blue.
Continuing on around the island on my scooter, I cooled off at Stiniza beach, an incredibly beautiful cove, secluded from the general thoroughfare and only accessible by a steep trail down from the road or by boat. Floating in the water, lying in the sun on the rocks and drinking an ice cold beer from the nearby stand seemed like the perfect last day.
Finally, on the road back, I stopped by an old wine shop for one last glass of Croatian red, and one last plate of the famous octopus salad. I scootered back into town at sunset, grabbed my bags and jumped on the ferry to Split for a quick night's sleep before an early flight home.
SLINGSHOT.FLIGHTS
I owe a huge thanks to my friends at Slingshot.Flights for their help in making this trip happen. If you're like me, and love to travel, but don't necessarily always have the funds to make cool trips happen, Slingshot.flights is like your fairy godmother. They help make those impossible travel dreams possible by helping make sense of the frequent flier system, credit card travel offers and redemption system so you don't have to. There's no cost to you so it's kind of a no-brainer.
Signing up is as simple as answering a few questions, so get going on your next trip today!